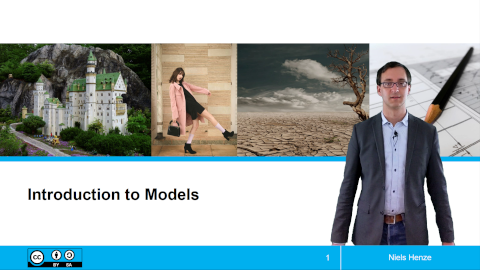 Introduction to Models in HCI
Einführung zu Modellen
YouTube, SmartPlayer, SmartPlayer (ZIP), Scorm Package, MP4 Video Download, Slides (PDF), Slides (PPTX)
Basics of Fitts' Law
Modellierung von Selektionsaufgaben mittels Fitts' Law
YouTube, SmartPlayer, SmartPlayer (ZIP), Scorm Package, MP4 Video Download, Slides (PDF), Slides (PPTX)
Applications of Fitts' Law
Anwendungen von Fitts' Law
YouTube, SmartPlayer, SmartPlayer (ZIP), Scorm Package, MP4 Video Download, Slides (PDF), Slides (PPTX)
Steering through Tunnels
Modellierung des Durchfahren von Tunneln mittels Steering Law
YouTube, SmartPlayer, SmartPlayer (ZIP), Scorm Package, MP4 Video Download, Slides (PDF), Slides (PPTX)
Lists and Hick's Law
Finden von Einträgen in Listen und Hicks Law
YouTube, SmartPlayer, SmartPlayer (ZIP), Scorm Package, MP4 Video Download, Slides (PDF), Slides (PPTX)
Keystroke-Level Model
Modellierung der Interaktion mit Dialogen mit dem Keystroke-Level Model
YouTube, SmartPlayer, SmartPlayer (ZIP), Scorm Package, MP4 Video Download, Slides (PDF), Slides (PPTX)
GOMS
Goals, Operators, Methods, Selection rules oder abgekürzt GOMS für die Modellierung der Interaktion mit komplexerer Dialoge
YouTube, SmartPlayer, SmartPlayer (ZIP), Scorm Package, MP4 Video Download, Slides (PDF), Slides (PPTX)
Norman's Seven Stages of Action
Don Normans sieben Phasen des Agierens
YouTube, SmartPlayer, SmartPlayer (ZIP), Scorm Package, MP4 Video Download, Slides (PDF), Slides (PPTX)
Models – For What Else?
Weitere Modelle der Mensch-Computer Interaktion
YouTube, SmartPlayer, SmartPlayer (ZIP), Scorm Package, MP4 Video Download, Slides (PDF), Slides (PPTX)
Interview with Kashyap Todi about Computational Interaction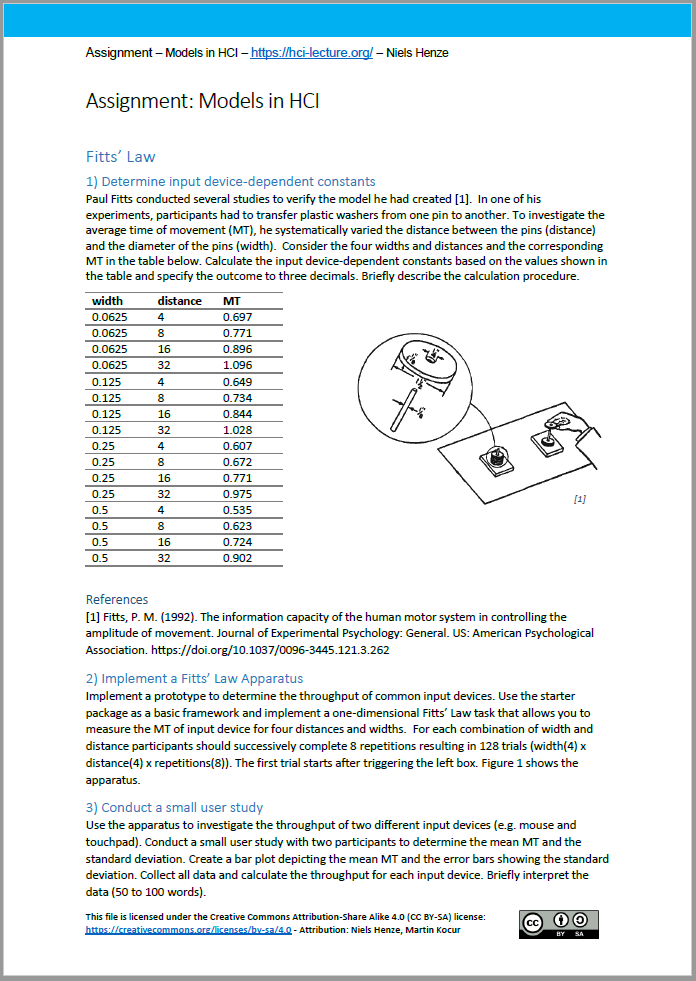 Assignment: Models in HCI
Übungsaufgabe: Modelle in der Mensch-Computer Interaktion
Assignment (EN) as Word File (.docx) and as PDF File (.pdf). HTML-prototype compressed as a ZIP File (.zip).
Übungsaufgabe (DE) als Word Datei (.docx) and als PDF Datei (.pdf). HTML-Protoyp komprimiert als ZIP Datei (.zip).
Models in Human-Computer Interaction (complete topic)
All slides in a single PDF, Playlist on YouTube with videos of this topic.
The files are licensed under the Creative Commons Attribution-Share Alike 4.0 (CC BY-SA) license.